July 15, 2008
We'll, I think I have finally acclimatized to being back - I never would have expected that it would take so long. The trip was long but a fantastic experience and really kind of a blast. I've started trying to capture a summary of the trip in terms of my favorite images and experiences. Click here to see what I have so far.
May 13, 2008
We survived the jungle - it was actually kind of cool. I was really looking forward to seeing the macaws even though we were going to be there in the "off season." It was still fun and I did get a couple of good shots. If you're interested, click here to check them out.
April 9, 2008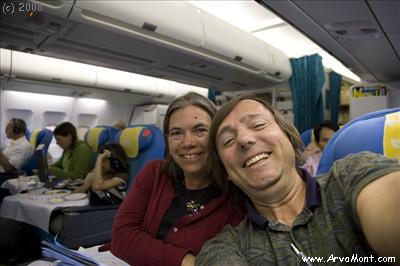 There we all are on Air Tahiti Nui!
Feb 24, 2008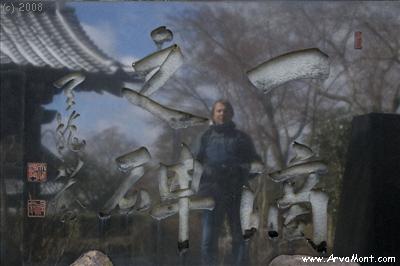 Self portrait? Posted by my lovely wife :-)
Feb. 19, 2008
Ho Chi Minh City, Vietnam - The motorcycles captivated me for some reason. Here's my attempt to capture what I saw. The Wheel Thing...
December 13, 2007
I had about 3,500 photos to sort through from 2 weeks in Tanzania (and this does not include the hundreds of photos Tasha & Anika shot). However, I just had to pull out and share one of the highlights of our time in Tanzania. Check out "These Lions Can Hunt"
November 5, 2007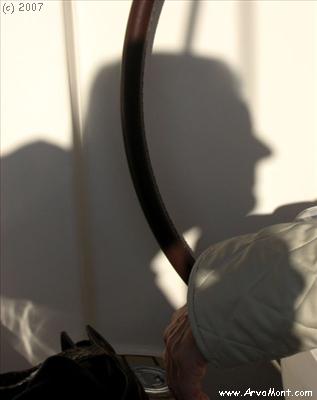 Isn't this a great portrait Tasha set up!
Nov. 4, 2007 - Barcelona has been a nice reprieve from the daily travel grind. As a result, I have created a photo collection of my experience in the Parc Naturel Regional de Camargue - trying to create nice flamingo images was a lot of fun. Click here to see the results.
Oct. 24, 2007 - After 7 weeks of intensive city visiting, I have finally managed to find some time to reflect on the places we've seen in September and October. Interestingly, though not surprising, my favorite places have corresponded to those in which I have taken the most photographs. Thus far on our trip, Lauterbrunnen Switzerland still tops my list with some 800+ photos taken, and about 500 photos kept...not to worry, I'm not posting any page with 500 photos :-). Some places just didn't "turn me on" visually - maybe it was the environment or architecture, maybe it was a lack of space to take in the cityscapes, perhaps the lighting was perpetually bad, or maybe just a tired and grumpy photographer. Whatever the circumstances, after the Swiss Alps, and in no particular order, Paris, Prague and Venice have probably been the most inspiring and attractive cities (to me, at least) thus far. I spent some time today (while Newenka, Anika and Oma went in to town to hang out at the Barcelona Ikea ;-) ) reviewing one of my more memorable cities, Prague. The thing that really hit me about Prague was how interesting the buildings were. From the first day there, I found myself admiring the buildings. I have created a photo collection trying to capture some of the impressions I took away from Prague - which overcame flat, cloudy lighting to still win a spot in my photographic heart. If you are interested, click here.
Oct. 4, 2007 - I seem to have lost control of my personal journal page. Perhaps this is a sign indicating I need to update more often. Hmmm...
---
Happy Birthday to You! (if it's my page, shouldn't it be "happy birthday to me?")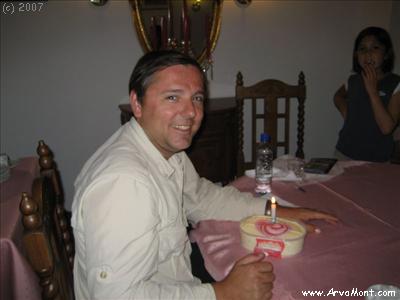 Yannis with his birthday bucket of ice cream! He was sad that we made him share it with the rest of us, however.
---
The many faces of Yannis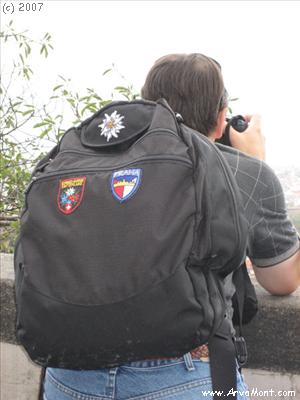 Cool backpack patches, eh?
Freshly shaven after the 2 month trial at imitating "Grizzly Adams" :-)
---
Musings, Random Observations and Photo Collections
Musing #1 - Lost baggage
How many bags will be waylaid on our trip? After our 1st flight and 1st day, we are at 100% - fortunately, after our 3rd flight we're down to 33%. We have about 40 flight segments planned, and each of us is checking one bag. Want to hazard a guess how we'll fare? - email us with your guess.
Musing #2 - How we came to own a car in Europe
Yes, we own a car in Europe. It actually makes a lot of sense. More info...
Musing #3 - My Quintessential Swiss Alps experience.
Or close encounters with those wonderful Swiss animals. More info...
---
Photo Collection #1 - London Cabs
Photo Collection #2 - Those Wonderful Buildings of Prague
Photo Collection #3 - The Parc Naturel Regional de Camargue and its wonderful flamingoes
Photo Collection #4 - These Lions Can Hunt (a pride of lions doing their thing in Ngorongoro Crater, Tanzania)
Photo Collection #5 - The Motorcycles of Ho Chi Minh City, Vietnam (The Wheel Thing)
Photo Colleciton #6 - The Jungle Clay Lick