---
Hey everyone!! I'm starting a trivia contest (well, mostly trivia). Click here for more information.
2/18/07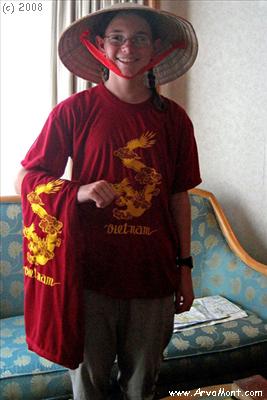 12/21/07
Okay, so Iím used to having my own bed, my own blanket, etc. In lots of hotels, though, I end up sharing with Anika. Weíre both blanket hogs, so what ensues is a sleeping tug-of-war, and whoever gives up loses the blanket. I usually am ready to go to bed, and hey, I donít really need the blanket, so I let Anika have it. Then, around 3:00 AM, Iím cold and I take it back, and around 4:00, Anika steals it again. Normally Iím okay with that, but in our apartment in Istanbul, the heating system did not work. The first night, I woke up freezing, and after that, I took the sheet and she took the blanket. It wasnít the greatest arrangement, but I wasnít freezing. Then, one morning, I woke up, to find: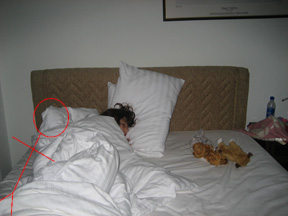 I am supposed to be sleeping on the side that is pretty much nonexistent. Note that she gives more room to her stuffed animals than to me.
Well, here in Greece at least I have my own bed.
P.S.-Sorry I havenít been writing more often, but Iím never sure what to say.
P.P.S.-164 days until Iím back at home.
November 14, Madrid,
Hi everybody!
Sorry that I havenít been writing, but Iím going to try to update my page more frequently now. Iíll start with Morocco.
We took a ferry from Algeciras, Spain to Tangier, Morocco. Then we caught a train around the coast of Morocco and eventually into Marrakech.
Marrakech is divided into two parts. The inner part, the Medina, is the part within the old city walls, and overall, itís the poorer part of town. Outside of the walls is the New City, where there are malls, McDonalds, and that kind of thing. We stayed in a sort of hotel. It was called Riad Noga, and it was like an expanded bed and breakfast. There were lots of guests, and being a family, we had an apartment just around the corner from the main body of the business. In Morocco, it doesnít rain much, and almost all the houses in our neighborhood had instead of windows, a courtyard in the middle of the house. Our apartment had a really nice one, with four trees in it, and a fountain as well! We ate a couple of oranges and clementines fresh from the tree; they were fantastic!
Well, more later.
Oberjosbach, September 16, 2007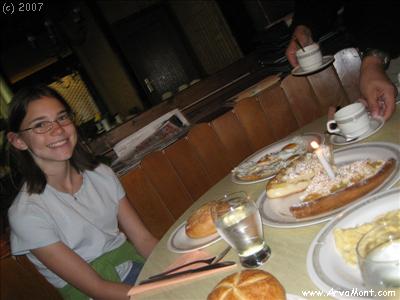 Happy Birthday to Tasha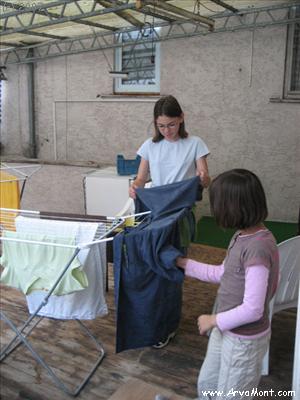 The inevitable scavenger hunt for her birthday presents!
Prague, September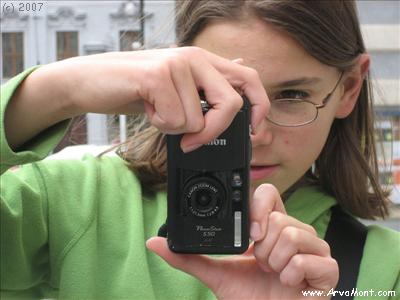 We'll see when Tasha notices this addition to her page! (Psst! Don't tell!)
July 19-My NO GOT regime, the eternal war against bad grammar.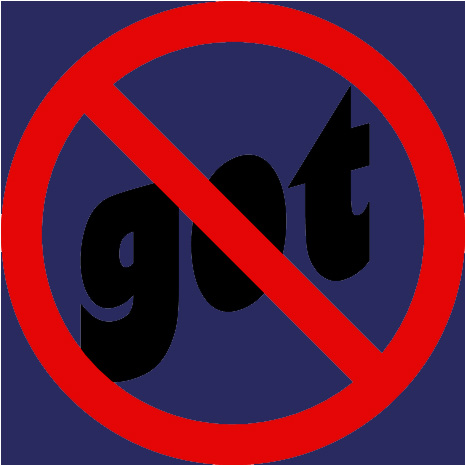 Some observations about Europe in general: way too many smokers! EEK! When you walk out of a non-smoking airport, you have to walk between 2 dense lines of smokers, all puffing away and completely stinking up the area. BLECH!
Now, some observations on France:
1) The French really like their bread! There are about 5 or 10 bread shops in the tiny town we're staying in alone! In Paris, breakfast came with the room we were staying in, and it was: half a baguette, some Nutella (nutty chocolate spread), some jelly, butter, and cheese. I'm glad I'm not allergic to bread.
2) The beaches seem to be tiny at high tide and enormous at low tide! We once had to walk half a mile to a mile to get to the water.
3) It rains... a lot. Every single day, it has rained. Also, the weather predictions are only correct about 5% of the time, so we're never sure when it will rain.
Yesterday, I saw Harry Potter et l'Ordere du Phťnix. It was pretty good, but when you can't understand a word, it's hard to criticize. It was amazing how many English signs and stuff there were.
TAFN- that's all for now!
June 19- alright, here's an attempt at a poem
My dad is annoying, it's a fact,
He looks over my shoulder; I need a pact.
That's a forced rhyme, but hey, I have to write something, so there it is.