Update: Fourth Quarter 2005
It's Fall - that means SOCCER!!!
See our kids pictures by clicking here:
Anika in Wonderland!
A button, a cat, an executioner?
Newenka has a birthday
No big deal... Good thing for Harry Potter movies
Tasha plays the trumpet in her first symphony orchestra concert in Ganz Hall at Roosevelt University. Then the Hinsdale Middle School sixth grade band performs...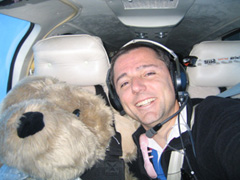 The whole clan was together again in 2005 for Christmas and this time someone remembered to take a photo of all of us! It is fun when all the cousins are together! Somehow, Anika managed to talk her very large dog onto the plane - he became the Canine Copilot!