Eastern Canada in Summer 2009
First Stop: Moncton, New Brunswick
Moncton is known for huge tides and Magnetic Hill, but we also explored Fundy National Park and went for a beach day at in unusually warm waters of the Northumberland Strait. Mostly we tried to miss the crowds arriving for the huge outdoor AC DC concert!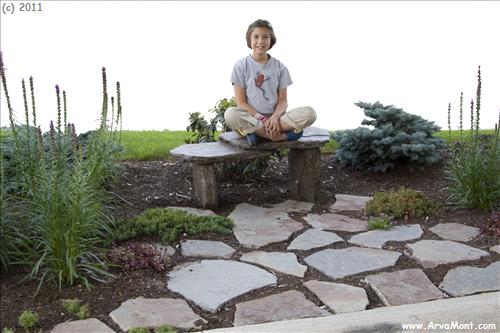 Anika in the serene Japanese Garden in from of our hotel. (Serenity courtesy of Photoshop!)
We flew into Sydney and drive around to the Keltic Lodge which is on a peninsula on the Gulf of St. Lawrence just outside the Cape Breton Highlands National Park.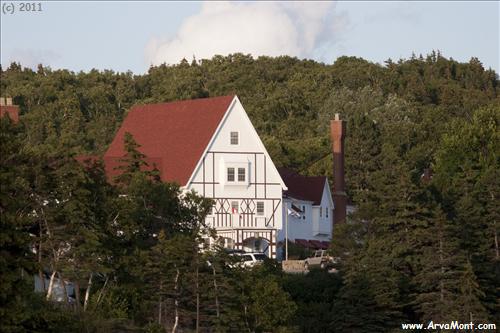 The Keltic Lodge
One day we rented kayaks and paddles out to a lovely spot for swimming. There was a narrow channel to the "lake" we paddles on, and the tide was going out. By the time we arrived at the channel, it was too shallow for kayaks, but perfect for body surfing.
Why Gros Morne, our friends asked. Well, if you have a small plane, you should go to places that are hard to get to if you don't have a small plane. So Gros Morne definitely qualifies! Besides that, it is a completely lovely place. It is a park that has several different personalities. It is very much defined by the ocean, the Bay of St. Lawrence, and the bay that almost intersects it. It has beautiful wooded hills for hiking and climbing. It also has fjords, cut off from the ocean millennia ago, which contain very pure fresh water. They so lack in nutrients that there are not many things living in them. There is also a mountain made up of parts which used to be deep ocean and parts which were the earth's mantle. These have been raised up through the processes of continental drift! It is an eerie thing to hike in the morning on what looks like the surface of the moon or some completely barren dessert and then to hike in the lush green hills to the ocean in the afternoon.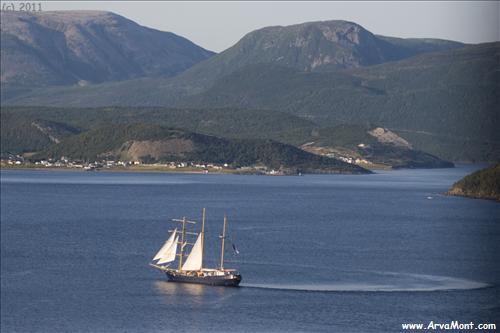 A skiff come to meet us at Norris Point.
Anika photographing pitcher plants. This is a landscape in which carnivorous plants thrive, because the soil is so nutrient poor that they have to get their vitamins somehow!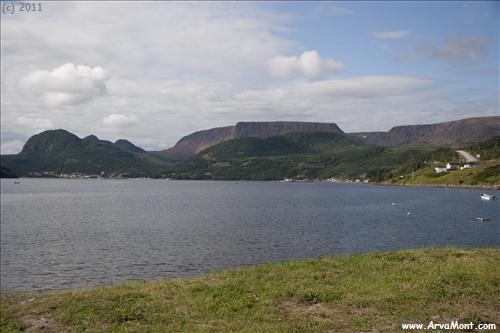 Lush grassy hills lie in from of the tablelands. If you look very closely you can see our hotel. (Of course it helps to know where to look.)
The fjords... this is Western Brook Pond.
There is a three mile hike to get to the pond. Looking back at the lands that now separate the fjord from the ocean:
On the way back to the car after our boat excursion, Tasha and Newenka took the long way, to see where the hiking and camping sites were and to enjoy the sights. Yannis and Anika took the short way home, and dawdled. Look what they saw: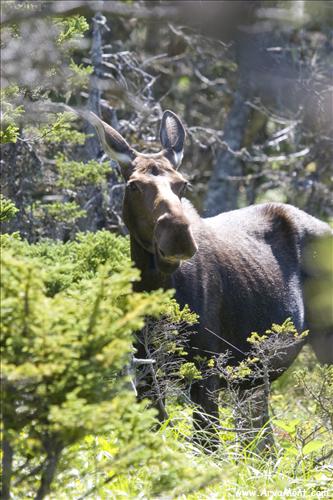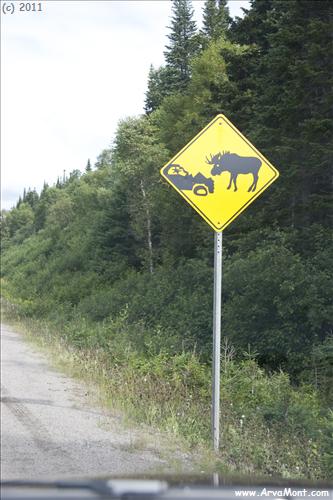 Sign encountered on the way into the park.